Circa 1984-87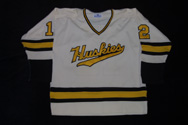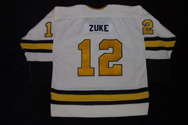 Comments:
This jerseys set is identifiable by the black-gold-black neck line and the lack of numbers on the front of the jersey. The jerseys were produced by GoodSports and featured two color sewn twill numbers (gold on black). All of the players are shown wearing jerseys of this style in the 1985-86 and 1986-87 yearbook headshots (Oswald). The jerseys as worn on the ice had a single color black name on a nameplate with relatively wide spacing of the letters (White photo).
Game photos of players wearing these jerseys include:
1982-85 - Tiger Pierce - Program Oct 25-27, 1985 cover
1983-85 - Russ Becker - Program Oct 25-27, 1985 p4
1983-85 - Dave Reierson (with "C") - Program Oct 25-27, 1985 p7
1983-85 - Don Porter (vs Denver 83-84 or 84-85) - Program Oct 25-27, 1985 p8
1984-85 - Richard Novak - Program Oct 25-27, 1985 p9
1985-86 - Scott White - Yearbook 1986-87 cover
1988-89 - Multiple players in the yearbook wearing this set in intra-squad game who were frosh in 1987-88
Based on these photos it can be assumed that the jerseys were still in use during the 1986-87 season and could have been used as early as 1982-83.
Jerseys with namplates of "Lauen" (played 1979-83), "ZUKE" (played 1980-84), and "TURNER" (played 1981-82) have been in our collection. However it is unlikely either of those players wore this style of jersey and that the nameplates were added after they left the team. The nameplate fabric is not the same type of material as the jersey and it is a much tighter knit. The nameplates are also suspect because the exact same style shows up on other sets of Tech jerseys that came from the same dealer. One last knock against the nameplates is that they were noted as NOBR (name on back removed) when they were sold by Michigan Tech. Jerseys that were sold as part of this set were noted as being from the 1988-89 season and included numbers 5, 12, 17, 18, 21, 22, 25, 27, 28, 29.